Pages in topic: < [1 2]
How to sync Trados on two computers - Where are the files

Samuel Murray


Netherlands
Local time:

12:07




Member (2006)


English to Afrikaans
+ ...

NeoAtlas wrote:

Samuel Murray wrote:
3. None of these two files or set of folders contain the project list.

The project list is kept in this XML file:

C:\Users\[userName]\Documents\Studio 2019\Projects\projects.xml



Aah, nice. It didn't occur to me to look in the Documents folder, although now that you mention it, it kinda makes sense, since that is where Trados saves all projects directly after Trados is installed.
| | |
| --- | --- |
| Why not use Dropbox - Because... | Nov 9, 2019 |
Hi Stepan,
I thank you for your suggestion.
Somehow I do not want to use Dropbox (or similar cloud applications), because I just do not trust...
Best,
Michael



Stepan Konev wrote:

You can install Dropbox on both PC and laptop and get 2GB for free. Just keep your TMs there. You don't need to synchronize other files. Just check the 'Enabled' option for the TM saved on your Dropbox cloud disc. It takes time for Trados to locate the cloud TM at the beginning, but once Trados has located it, the process goes well then.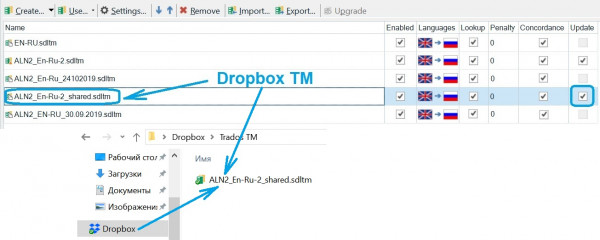 | | |
| --- | --- |
| Syncing with Dropbox/GDrive/OneDrive .....or....... a thumb drive | Nov 9, 2019 |
This is what I did, since usually the projects are not so big, and there are thumb drives available with 128 GB. That is a lot of segments

))
And I do not have to use the cloud...



Rossana Triaca wrote:

Unless you want to shell out for expensive software, syncing the TMs/TDBs with Dropbox/GDrive/Onedrive/etc. in the same absolute path on both computers is the fastest way to go. There are some downsides -- e.g., when you come home and "resolve" the project with the updated TM, unless you tinker with it, your own work will be marked as a CM (this may or may not affect you, depending on how you work).

If you are working remotely somewhere with a decent Internet connection, you can also remote desktop to your PC and save on one license (provided you can leave your PC on in your house all the time and outages are not a common occurrence). A tad less eco-friendly perhaps, and depending on your PC specs and Internet speed it may be slower, but it's easy to set up and I much rather spend on good hardware for my base PC and gladly risk taking out an empty USD 200 Chromebook on the road -- you won't hurt that much if the remote-desktoping device gets lost or stolen (unlike, say, carrying around a much heavier top-of-the-line laptop). Again, this assumes you have a reasonable Internet connection (but with a good mobile phone plan that you can use as a hotspot, this is not so hard to come by nowadays, though depending on your region it may or may not be expensive).
| | |
| --- | --- |
| Burning down the house | Nov 9, 2019 |
That is exactly my point: My house burns down, I still have the "mobile" laptop, if I lose the "mobile" laptop, I still have the "resident" laptop. (Plus: no reinstallation of OS and software required

)
That is why I am trying to figure out a way to do this with as little work/worries as possible...



Dan Lucas wrote:

Emma Page wrote:
Plus there's no syncing to worry about, and all my data is safe at home if my chromebook is damaged or stolen.

As someone whose house burned down in their absence, I would respectfully suggest that home is not always safe, but I do take your point.

Dan
Pages in topic: < [1 2]
To report site rules violations or get help, contact a site moderator:
You can also contact site staff by
submitting a support request »
How to sync Trados on two computers - Where are the files
SDL Trados Studio 2021 Freelance
The leading translation software used by over 270,000 translators.

SDL Trados Studio 2021 has evolved to bring translators a brand new experience. Designed with user experience at its core, Studio 2021 transforms how new users get up and running and helps experienced users make the most of the powerful features.

More info »
Protemos translation business management system
Create your account in minutes, and start working! 3-month trial for agencies, and free for freelancers!

The system lets you keep client/vendor database, with contacts and rates, manage projects and assign jobs to vendors, issue invoices, track payments, store and manage project files, generate business reports on turnover profit per client/manager etc.

More info »