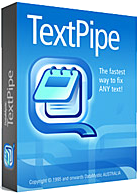 Join the world's largest community of translators.
Register now →
(It's free.)

Join the world's largest community of translators.

Join ProZ.com →
TextPipe Search/Replace
0
out of
5
Translate faster and smarter using TextPipe Search/Replace
TextPipe is an automated translation tool used by language professionals to translate thousands of phrases in thousands of HTML, XML, TXT, JSON and other text-based formats.
Used by over 2,600 companies worldwide!
Top reasons to use TextPipe
Apply massive predefined translation phrase lists - accelerates your translation with maximum reuse of previous work
Import external phrase lists from Microsoft Excel, CSV- or Tab-delimited files
Translates all text file types – HTML, XML, TXT, JSON, CSV- and Tab-delimited
Convert between 145 ASCII, ANSI & Unicode encodings - fix customer data
PCRE-style regular expression pattern matching
EasyPattern pattern matching e.g. [ '$', 1+ digits, '.', 2 digits ]
Replacements can include re-arrangements of the found text, clipboard contents, time and date parts, environment variables
Can be automated - making it possible to integrate with any workflow
New translation features in the latest TextPipe
Translate inside compressed zip files without opening them (including DOCX, XLSX, PPTX types)
Learn about all the new features on datamystic.com/textpipe/whatsnew
Price
From $69
File formats
All text file types – HTML, XML, TXT, JSON, CSV- and Tab-delimited
License type
Available as desktop (perpetual) and online (Software as a Service)
System requirements

| | |
| --- | --- |
| Operating system | Windows 7, Windows 8.1, Windows Vista, Microsoft Windows 7, Windows 10 (beta), Windows 8, Windows 95, 98, ME, NT & 2000, Windows 2000, Windows 10 |
| System requirements | 32MB RAM |

Compatibility

No data

Support & upgrades

| | |
| --- | --- |
| Support and upgrades offered/included | Paid support available for unlimited specialist support and free upgrades, Installation support, automatic updates, affordable upgrades, more on support, Free upgrades for duration of license/Subscription |

30 days
Languages supported
English,Arabic,Chinese,Croatian,Dutch,French,Polish,Portuguese,Russian,Spanish





Side-by-side comparison of this tool with others from the "Terminology extraction" category:




(1 review)

(0 reviews)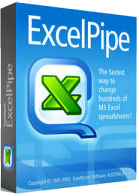 (1 review)


Compare more than two tools at once →




No reviews.