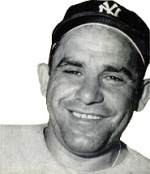 | | | | | | | | | | | | | |
| --- | --- | --- | --- | --- | --- | --- | --- | --- | --- | --- | --- | --- |
| | | | | | | | Discussion & feedback 0 | | | | | |
Source text in English
There were 3 entries submitted in this pair during the submission phase.

Entries submitted in this pair were rated on a per-segment basis. Listed below are all submitted translations of each individual source text segment.
---
Submitted segment translations
Translations submitted for each source text segment are listed below. Segments have had surrounding punctuation stripped, and the resulting identical segments have been grouped together, so each listed translation should differ, but the difference may be subtle (eg. internal punctuation or diacritics).
| | | |
| --- | --- | --- |
| | Viewing segment # out of 14 | |
---
Source text segment #13

- Mrs. Lindsay: "You certainly look cool." Yogi Berra: "Thanks, you don't look so hot yourself."

Translations of this segment

(3 total; 3 unique)

린지 부인: "정말 멋있어 보이시네요." 요기 베라: "고마워요. 부인도 꽤 멋있어 보이시는데요

린지 부인: "당신은 정말 멋있어 보여요." 요기 베라 : "고맙지만, 부인은 그다지 섹시해 보이지는 않네요

정말 시원스럽게 잘 입으셨네요"라고 린드세이 부인이 말했다. 그러자 요기 배라는 답변했다: "감사해요. 부인도 그리 답답해 보이지는 안구려

---
| | | |
| --- | --- | --- |
| | Viewing segment # out of 14 | |
ProZ.com translation contests
ProZ.com translation contests offer a fun way to take a break from your normal routine while testing and honing your skills with fellow translators.
---
---
ProZ.com Translation Contests. Patent pending.